Grindr To Remove Ethnicity Filters!!!! With all the racial tensions right now going on across America and the world, Grindr has decided to do something about racism on its platform. And so it's going to remove race and ethnicity filters from the app.
Variety says that Grindr announced some changes coming to their dating app. Grindr previously allowed you to filter out other users based on a variety of things, race being one of them. In an Instagram post, Grindr announced that it would be removing the racial filters from its app upon the next update.
They also announced donations to the Marsha P. Johnson Institute as well as Black Lives Matter. Grindr said it would also announce its Pride Perseveres event calendar, which would take on the "added responsibility" of fighting racial injustice.
"Tomorrow, we will announce our #PridePerseveres calendar, but in a different light. Yes, we can still come together in the spirit of Pride, but Pride this year has an added responsibility, a shifted tone, and a new priority that will be reflected in our programming—support and solidarity for queer people of color and the #BlackLivesMatter movement."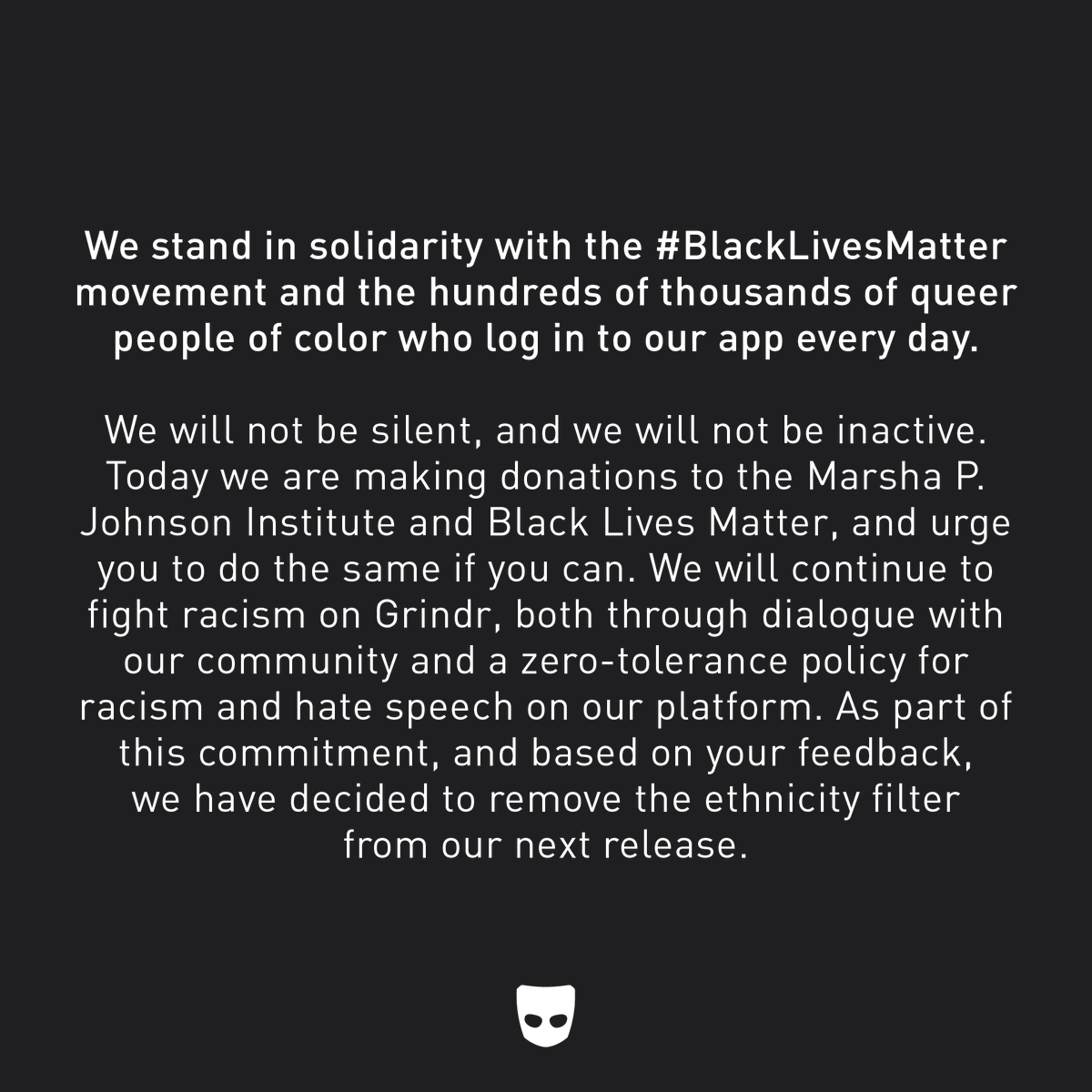 Called "America's Number ONE Gossip Columnist" by The National Enquirer. Rob 'Naughty But Nice' Shuter breaks celebrity news every day on his website
NaughtyGossip.com
where he delivers all the dish about the stars we love in his naughty but nice signature style. You can also catch him co-hosting and breaking celebrity news on
Good Day New York
,
The Today Show
,
The Talk
,
Wendy Williams Show,
CNN
,
Extra
and
Z100's 'Elvis Duran.'
Previously, Rob was the
Huffington Post's
only celebrity columnist and the former executive editor of
OK! Magazine.
Rob has also hosted his own Saturday night talk show on Mark Cuban's channel and his own daily morning show,
'The Gossip Table,' on VH1!
He just celebrated his one-year anniversary on Radio Rob – his subscription-based daily live podcast gossip show! Breaking some of the biggest entertainment stories, including Jamie Lynn Spears's pregnancy news, Britney's first post-meltdown interview, Eva Longoria's wedding, and baby exclusives for Jessica Alba, Tori Spelling and Mathew McConaughey's tots, Rob always knows where to find the best scoop. Before Rob was one of the world's most successful entertainment reporters, he was a publicist working for Jennifer Lopez, Alicia Keys, P. Diddy, Jessica Simpson and Jon Bon Jovi! Now he is bringing all this experience to his new show on
I HEART MEDIA
in his unique cheeky way, that is always a pinch and never a punch!
Grindr To Remove Ethnicity Filters! Grindr To Remove Ethnicity Filters