Olivia Jade returns to Instagram with sultry selfies in puffer jacket!!!! Lori Loughlin's daughter made a rare appearance on Instagram this week.
Olivia Jade Giannulli, 20, returned to the social media platform on Wednesday to give fans a glimpse at what she was up to at home in quarantine.
In a pair of snaps shared to her Instagram Story, the beauty influencer shared selfies wearing a blue and white ombre puffer jacket designed by Shadow Hill. She admitted it was an interesting thing to throw on considering it's summertime in Los Angeles, Calif., where she lives with her mom, dad, Mossimo Giannulli, and sister, Isabella Rose, 21.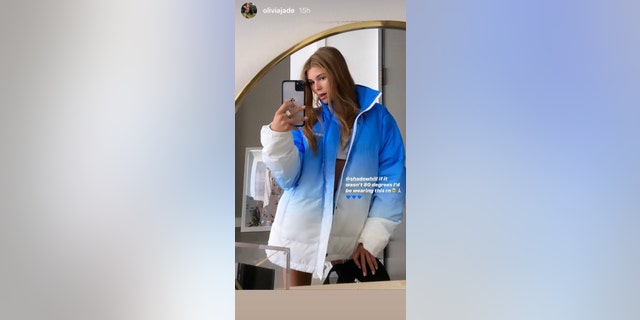 Olivia Jade Giannulli posted a silly selfie on Instagram on Wednesday. (Instagram/Olivia Jade)
"@shadowhill if it wasn't 80 degrees I'd be wearing this rn," she wrote with her tongue sticking out.
The second mirror selfie showed Olivia in the same pose but revealing off a bit more of her exposed leg. She did not appear to be wearing pants but was sporting a white crop top underneath the oversized coat.
The post comes nearly a month after Olivia Jade was called out online for her comments on using her "white privilege" to combat racism. In a post on her Instagram Story, Giannulli committed to calling out racist acts as thousands of demonstrators took to the streets across the nation to protest the death of George Floyd.
Called "America's Number ONE Gossip Columnist" by The National Enquirer. Rob 'Naughty But Nice' Shuter breaks celebrity news every day on his website
NaughtyGossip.com
where he delivers all the dish about the stars we love in his naughty but nice signature style. You can also catch him co-hosting and breaking celebrity news on
Good Day New York
,
The Today Show
,
The Talk
,
Wendy Williams Show,
CNN
,
Extra
and
Z100's 'Elvis Duran.'
Previously, Rob was the
Huffington Post's
only celebrity columnist and the former executive editor of
OK! Magazine.
Rob has also hosted his own Saturday night talk show on Mark Cuban's channel and his own daily morning show,
'The Gossip Table,' on VH1!
He just celebrated his one-year anniversary on Radio Rob – his subscription-based daily live podcast gossip show! Breaking some of the biggest entertainment stories, including Jamie Lynn Spears's pregnancy news, Britney's first post-meltdown interview, Eva Longoria's wedding, and baby exclusives for Jessica Alba, Tori Spelling and Mathew McConaughey's tots, Rob always knows where to find the best scoop. Before Rob was one of the world's most successful entertainment reporters, he was a publicist working for Jennifer Lopez, Alicia Keys, P. Diddy, Jessica Simpson and Jon Bon Jovi! Now he is bringing all this experience to his new show on
I HEART MEDIA
in his unique cheeky way, that is always a pinch and never a punch!
Olivia Jade returns to Instagram with sultry selfies! Olivia Jade returns to Instagram with sultry selfies