Tiger at Carole Baskin's Rescue nearly bites off arm in feeding accident! A volunteer at Carole Baskin's Big Cat Rescue was seriously injured after an attempt to feed a tiger went terribly wrong.
An official at the "Tiger King" star's facility in Tampa, Fla., took to the facility's Facebook page to make members of the public aware of the grisly incident.
The post begins by explaining that Candy Couser, a volunteer at the animal sanctuary for five years, was getting ready to feed a tiger named Kimba on Thursday morning when she accidentally forgot to follow one of the animal sanctuary's protocols.
"She opened a guillotine tunnel door at one end of the tunnel, and when [Couser] went to raise the second door she saw it was clipped shut. This is our universal signal NOT to open a gate without the coordinator coming to assist, but Candy said she just wasn't thinking when she reached in to unclip it," the post explains. "It is against our protocols for anyone to stick any part of their body into a cage with a cat in it."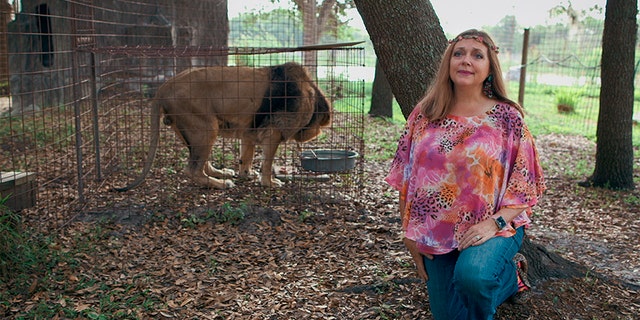 The post goes on to explain that the big cat "grabbed" the volunteer's arm and "nearly tore it off at the shoulder."
The tiger, fortunately, "dropped his grip" when another staffer came running. Another employee, who is also a nurse, tried to stop the bleeding from Couser's armpit, while an additional person on-site managed to pull her to safety. An ambulance was called, the post continues.
Couser has been taken to an area hospital and was still conscious when an ambulance arrived at the scene. The volunteer, who has been a green level keeper for lions and tigers at the site for almost three years, "insisted that she did not want Kimba Tiger to come to any harm for this mistake," the post said.
Called "America's Number ONE Gossip Columnist" by The National Enquirer. Rob 'Naughty But Nice' Shuter breaks celebrity news every day on his website
NaughtyGossip.com
where he delivers all the dish about the stars we love in his naughty but nice signature style. You can also catch him co-hosting and breaking celebrity news on
Good Day New York
,
The Today Show
,
The Talk
,
Wendy Williams Show,
CNN
,
Extra
and
Z100's 'Elvis Duran.'
Previously, Rob was the
Huffington Post's
only celebrity columnist and the former executive editor of
OK! Magazine.
Rob has also hosted his own Saturday night talk show on Mark Cuban's channel and his own daily morning show,
'The Gossip Table,' on VH1!
He just celebrated his one-year anniversary on Radio Rob – his subscription-based daily live podcast gossip show! Breaking some of the biggest entertainment stories, including Jamie Lynn Spears's pregnancy news, Britney's first post-meltdown interview, Eva Longoria's wedding, and baby exclusives for Jessica Alba, Tori Spelling and Mathew McConaughey's tots, Rob always knows where to find the best scoop. Before Rob was one of the world's most successful entertainment reporters, he was a publicist working for Jennifer Lopez, Alicia Keys, P. Diddy, Jessica Simpson and Jon Bon Jovi! Now he is bringing all this experience to his new show on
I HEART MEDIA
in his unique cheeky way, that is always a pinch and never a punch!
Tiger at Carole Baskin's Rescue nearly bites off arm! Tiger at Carole Baskin's Rescue nearly bites off arm